as the title suggests, january and february will be sharing the spotlight for this monthly (bimonthly?) wrap-up, and that is because i have been too busy recently to properly write anything. (junior year is no walk in the park D:) in hong kong, school is suspended because of the novel coronavirus epidemic. for the time being, we're having video-call lessons, and still have to do presentations over the phone and turn in homework assignments on google classroom – believe it or not, we have even more work to do than in regular school.
enough of my complaining! although schoolwork took up most of my time, there were many other things i did and enjoyed in the past two months. (and i'm so excited for spring – i can't believe it's already march :D)
my sister, who goes to boarding school in the uk, came home for winter break, so i got to spend new year's with her. that was the best new year's present i could have asked for – it had been ages since we spent some quality time together 😀
in mid january, i finished my midterm exams and got way better results than i expected. i really worked my butt off for them and it felt really rewarding to see some improvement in my grades. ♡ to celebrate, i went baking at a diy baking studio with some friends and made caramel pudding cakes! i'm a total dummy when it comes to anything cooking-related and i'm surprised i didn't get food poisoning after eating what i made.
after that, i got a new film camera! i started shooting 35mm film last year with a plastic film camera – the kodak m35, which is the reloadable equivalent of a disposable camera (i have no idea how else to put that into words – it basically has the same features and functions as a disposable camera, but it can be reloaded with film and used more than once.) after doing a lot of research and stumbling across an instagram film camera shop having a chinese new year sale, i decided to go for it and bought the ricoh 35efs! it's a rangefinder camera, which took some getting used to because it's so different from the kodak m35, which is a point-and-shoot camera.
the day after i got my camera, my friends and i went to hong kong disneyland. (i took many pictures, of which around 65% turned out to be out-of-focus. it was like a stab in my heart when i got the photos back and saw them.) i hadn't been there in ages, and it felt really good to go again after so many years because it reminded me of happy memories from my childhood – i used to have an annual pass and went almost every week 😂
this year's chinese new year falls on 25 january, and my family went to bàinián 拜年 at my grandparents' homes. it was a fun day – i got to catch up with relatives from both sides of my extended family and had a lot of delicious food (my grandma makes the best chaozhou cuisine!).
the day after, my parents and i set off to chiangmai, thailand. it's my first time visiting northern thailand, and i was surprised by how different their culture was from that of the other parts of thailand i have visited before. i loved roaming the night markets – most of the stuff sold there was cheap and handmade, and i brought home a few trinkets of my own. i also got a chance to try my new camera out, which i wrote about in my blog post chiangmai, thailand on film. this is probably the last chance i'd get to travel before my public exams next year, and i am so glad this beautiful place was where we chose to visit.
---
★★★★★

★★★

★★★★

★★★★★

★★★★★

★★★★

★★★★

★★★

★★★★

★★★★

★★★

★★★★

★★★★
in january, i read thirteen books. i've been trying to read more chinese books recently, and wanting to really step out of my comfort zone, i read 東京現代建築散步 and 一枚銅板也很幸福的雜貨店時光. the former is about tokyo's architecture and the latter is a translated korean book about an artist's quest to forever immortalize the rapidly disappearing corner shops by drawing them and telling their stories. i also reread to all the boys i've loved before by jenny han for the subtle asian book club, and surprisingly, i liked it a lot more than the first time i read it. you can read my review here.
january was an eventful month, and february was the exact opposite.
the novel coronavirus situation started getting worse in hong kong, and we were told to stay home instead of return to school. i did not go out, except for retrieving my textbooks and attending tutorial classes, and video chat with my friends almost every night (if i didn't do that, i think i would have gone mad due to the lack of human interaction in my life 😂) the only upsides of this whole thing was that with more flexibility in my schedule, i had more time for reading and catching up on movies on my to-watch list.
in the middle of the month, the school realized the situation wasn't getting any better and that we would not be able to return anytime soon, so we started having live video call lessons on microsoft teams. hopefully the epidemic will be over quickly – i never thought i'd say this, but i really miss going to school.
---
after rereading to all the boys i've loved before, i decided to give the film adaption a try. so many people loved it, so i thought – why not? i really liked the small changes in the film, like how peter stood up for lara jean, and also the reason for why kitty mailed those letters out was less petty than in the book. the only things that bothered me though, were the continuity error when peter and lara jean were signing their contract, and how they called yakult a "korean yogurt drink" when in fact, it's japanese.
watching to all the boys i've loved before also made me like peter kavinsky a bit more. in the book, he always acts so self-centered, and it's nice seeing the movie version of him actually make conversation with lara jean and defend her when people start spreading rumors about them.
the next movie in the series, ps. i still love you, came out around two weeks after i finished watching the first one, but i could not watch it on the day it came out because i don't have a netflix subscription. it took some time for me to get my hands on the film, and i finally watched it around a week after it came out!
i did not like ps. i still love you as much as the first film because peter disappointed me so bad. i hated how he hid that he knew about gen posting the hot tub video, and always made lara jean feel not important enough. i also did not like how lara jean left john ambrose standing there in the snow by himself without any explanation. she could have at least explained things to him. however, i really liked that lucas was appearing more in the movie, and glad that even when it feels like the whole world is against lara jean, she will always have a friend to talk to.
the way tiffany put it pretty much sums up my thoughts – "This movie was lacking that special ~spark~ that made the first movie feel magical, but I still had fun watching the sequel."
apart from the two tatbilb films, i also watched little women with my parents! saoirse ronan (my pondathon character's named after her :D), emma watson and timothée chalamet are all actors i really love, and i enjoyed seeing them on the big screen once again. florence pugh and eliza scanlen are also really great people on and off screen (i've watched one too many behind the scenes videos), and i definitely will be watching more movies featuring them in the future. everything about the movie – from the outfits and the hairstyles to the choreography and the playful fighting scenes – is so perfectly planned out, and i also liked its way of "now" vs "then" storytelling by using different color tones. i still haven't read the original novel by louisa may alcott, but i certainly will do so soon!
after that, i watched charlie's angels, which i've been dying to see since it came out last year! i haven't watched the original, and i know may people say that it is way better than the 2019 version, but i still found it really fun to watch. it's got a great cast, an engaging storyline and a powerful amount of female badassery, and i liked how they cast several iconic female celebrities in cameo roles at the end of the film, such as hailee steinfeld and chloe kim. the movie soundtrack was also really good, and i've been listening to it on repeat in the past few weeks. (also, noah centineo is naomi scott's co-worker in the movie. peter kavinsky and princess jasmine. co-workers. i'm still trying to process that.)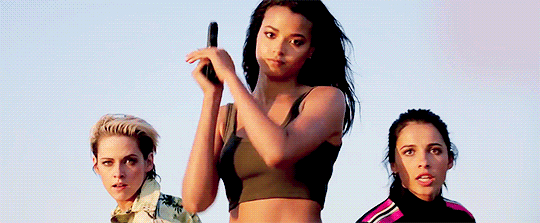 and finally, i watched the grand budapest hotel. this is the first wes anderson film i've ever seen, and it sure did not disappoint. wes anderson is famous for his unique aesthetic, which i finally got a taste of while watching the movie and loved. i think that many films rely on dialogue to do the storytelling, but the grand budapest hotel uses a wide range of visual elements, allowing the audience a lot more freedom to do their own thinking. (also, saoirse ronan is in it! what more can i say.)
i can't wait for wes anderson's new film, the french dispatch to come out – more aesthetics and saoirse ronan please. (timothée chalamet will be in it too! it's like the movie's made for me.)
---
★★★★

★★

★★★

★★★★

★★★★

★★★★

★★★

★★★★
the books i read in february were mostly okay – not particularly good, but not extremely bad either.
the writing in you was detailed and captivating, but i did not like the story that much because it's really creepy and at times, ridiculous. i was so uncomfortable reading it and it kind of ruined my experience. among the eight books i read, my favorite was surprisingly lab girl by hope jahren, which i read for school. the author, a female botanist, writes about her experiences as a woman working in the science field. after reading, i not only gained some insight into the work of scientists, but also realized the severity of gender inequality in the workplace – the research labs in particular. after doing some more research, i learned that the author is an advocate for girls in STEM careers, and hopefully with the continuous effort of people like her, girls who have a passion for science will be given more opportunities in the future.
GOALS FOR MARCH
take part in the subtle asian book club discussion! i haven't been able to do so in the past two months due to my packed schedule, but i'll try my best to find time this month to contribute some of my thoughts and interact with other members.
sleep earlier. school suspension has been messing with my schedule. usually, i sleep early on school nights so i can wake up on time to prepare for school, but since i do not have to wake up early now, i have developed a habit of staying up late, which is unhealthy 😦
read at least two chinese books. i have always preferred reading in english over chinese, and it seems like i have been missing out a lot on good chinese literature. hopefully that will change this month!
do more blog hopping. i follow so many wonderful bloggers, but haven't spent enough time supporting them recently. expect your posts to be flooded with love from me soon ❤
---
how was your january / february? did anything cool happen? what did you read? did you watch any good movies? tell me in the comments – i'm dying to know because i haven't properly talked to you all in a very long time ♡