exactly three days from now, i'll be on a flight bound for tokyo!
i was a tiny kid the last time i visited tokyo, and i don't remember much about it. after reading marie lu's warcross and ruth ozeki's a tale for time being, i realized how little i knew about this great city – and how much i wanted to know more about it.
and when the chance came – six days off after my finals! – i begged my mom to let me go to tokyo. and, to my great surprise and delight, she agreed to let me go!
to get me ready for my trip, and to ensure that i have the best experience in tokyo, i've compiled a little list of self-inflicted required reading 😂
THE WARCROSS SERIES BY MARIE LU – WARCROSS & WILDCARD
For the millions who log in every day, Warcross isn't just a game—it's a way of life. The obsession started ten years ago and its fan base now spans the globe, some eager to escape from reality and others hoping to make a profit. Struggling to make ends meet, teenage hacker Emika Chen works as a bounty hunter, tracking down players who bet on the game illegally. But the bounty hunting world is a competitive one, and survival has not been easy. Needing to make some quick cash, Emika takes a risk and hacks into the opening game of the international Warcross Championships—only to accidentally glitch herself into the action and become an overnight sensation.
Convinced she's going to be arrested, Emika is shocked when instead she gets a call from the game's creator, the elusive young billionaire Hideo Tanaka, with an irresistible offer. He needs a spy on the inside of this year's tournament in order to uncover a security problem . . . and he wants Emika for the job. With no time to lose, Emika's whisked off to Tokyo and thrust into a world of fame and fortune that she's only dreamed of. But soon her investigation uncovers a sinister plot, with major consequences for the entire Warcross empire.
---
Emika Chen barely made it out of the Warcross Championships alive. Now that she knows the truth behind Hideo's new NeuroLink algorithm, she can no longer trust the one person she's always looked up to, who she once thought was on her side.
Determined to put a stop to Hideo's grim plans, Emika and the Phoenix Riders band together, only to find a new threat lurking on the neon-lit streets of Tokyo. Someone's put a bounty on Emika's head, and her sole chance for survival lies with Zero and the Blackcoats, his ruthless crew. But Emika soon learns that Zero isn't all that he seems–and his protection comes at a price.
Caught in a web of betrayal, with the future of free will at risk, just how far will Emika go to take down the man she loves?
i read warcross last year, and i LOVED it. i'm not a big reader of science fiction, but i was impressed with the world building and the way marie lu blended imaginary elements into a realistic setting. i remember after i read it, i kept telling my sister to do the same, but she wouldn't (i'm still trying to make her read it!) here's my review for those who are interested:
OH MY GOODNESS, THIS BOOK THIS BOOK THIS BOOK. I remember coming across it for the first time on Goodreads some time ago. I didn't like the cover. I don't know why, but it keeps reminding me of a poorly designed pamphlet for the tutorial center I used to go to. But, here's the thing. I don't usually GO FOR books that have unattractive covers. So many of my Goodreads friends have read the book and loved it, and I was like, OK. But after a while, I felt like I was missing out on something really good. And I didn't like that feeling. Hahaha #peerpressure ; This book received a lot of raving 5-star reviews, and so I had really high expectations for it (which it exceeded!). Alexandra @ Twirling Pages gave the book five stars, and described it as a "mashup of all her favorite things". After I read the book, I totally get what she meant – because it's a mashup of all of my favorite things too. I have never read any Marie Lu novels. She's well-loved in the bookish community so I was really excited to finally read one of her books. And… I think she's become one of my favorite authors! Okay, first off. The world building. Was. Awesome. It's set in a world where virtual reality is an integral part of people's lives, and it's so unique and unlike anything I've ever read about before. Usually, I get confused when reading books set in worlds totally different from our own, but Marie Lu did a really great job explaining things and I understood everything about Warcross and the Neurolink right away. I really liked the cast. Emika is Chinese American, Hideo is Japanese British, Asher is disabled and moves about in a super cool wheelchair (which also serves as a door rammer when he wants to wake his teammates up), Hammie is Latina, and Roshan is queer. The diversity! ❤ Plus, the Phoenix Riders are all really supportive of Emika in the end, and I loved their friendship and team spirit! Emika is so cool and intelligent – she's got rainbow-colored hair (LIKE A YOUNGER VERSION OF WENGIE!!! But when she keeps mentioning it, it doesn't really seem interesting anymore…), she zooms about on her electric skateboard, she's got a sleeve of peony tattoos, and she's a coder! I really liked reading about her attempts to crack the code and find out who Zero is. AND MARIE LU KILLED ME WITH THAT ENDING. WHAT THE HECK IS THAT. I mean, I disagree with what Hideo's doing to the world population, but he is a person trying to do good by using wrong methods, and I am so torn between wanting to support him to make the world a better place and my instincts to stop him for violating people's human rights. Plus, I ship Emika and Hideo so hard, and I hope everything between them turns out okay in the end.
A TALE FOR THE TIME BEING BY RUTH OZEKI
In Tokyo, sixteen-year-old Nao has decided there's only one escape from her aching loneliness and her classmates' bullying, but before she ends it all, Nao plans to document the life of her great-grandmother, a Buddhist nun who's lived more than a century. A diary is Nao's only solace—and will touch lives in a ways she can scarcely imagine.
Across the Pacific, we meet Ruth, a novelist living on a remote island who discovers a collection of artifacts washed ashore in a Hello Kitty lunchbox—possibly debris from the devastating 2011 tsunami. As the mystery of its contents unfolds, Ruth is pulled into the past, into Nao's drama and her unknown fate, and forward into her own future.
Full of Ozeki's signature humour and deeply engaged with the relationship between writer and reader, past and present, fact and fiction, quantum physics, history, and myth, A Tale for the Time Being is a brilliantly inventive, beguiling story of our shared humanity and the search for home.
this book gave me literal chills. it's totally different from the type of books i usually read, but it was SO. GOOD. i like how unique the story is, and the way it was told – in two perspectives – one is of a grown canadian japanese author, and the other, an american japanese schoolgirl trying to fit in in an unfamiliar country. a tale for the time being opened my eyes to the dark side of tokyo – the fetish cafés, the hentai sites and the compensated dating industry – and i actually enjoyed learning more about it. i guess it kind of balances out the perfect, modern and thriving image of tokyo in my mind.
MY ALMOST FLAWLESS TOKYO DREAM LIFE BY RACHEL COHN
"I'm here to take you to live with your father. In Tokyo, Japan! Happy birthday!"
In the Land of the Rising Sun, where high culture meets high kitsch, and fashion and technology are at the forefront of the First World's future, the foreign-born teen elite attend ICS-the International Collegiate School of Tokyo. Their accents are fluid. Their homes are ridiculously posh. Their sports games often involve a (private) plane trip to another country. They miss school because of jet lag and visa issues. When they get in trouble, they seek diplomatic immunity.
Enter foster-kid-out-of-water Elle Zoellner, who, on her sixteenth birthday discovers that her long-lost father, Kenji Takahari, is actually a Japanese hotel mogul and wants her to come live with him. Um, yes, please! Elle jets off first class from Washington D.C. to Tokyo, which seems like a dream come true. Until she meets her enigmatic father, her way-too-fab aunt, and her hyper-critical grandmother, who seems to wish Elle didn't exist. In an effort to please her new family, Elle falls in with the Ex-Brats, a troupe of uber-cool international kids who spend money like it's air. But when she starts to crush on a boy named Ryuu, who's frozen out by the Brats and despised by her new family, her already tenuous living situation just might implode.
My Almost Flawless Tokyo Dream Life is about learning what it is to be a family, and finding the inner strength to be yourself, even in the most extreme circumstances.
this book sounds so darn adorable, and the cover's so pretty – the way they turned the "o" into a paw is really clever and also i love fortune kitties, they are so cute! i've read mixed reviews of this one on goodreads – the people who read the book either LOVED it or hated it with the burning rage of a thousand suns. i really hope it will work out for me!
SEVEN DAYS OF YOU BY CECILIA VINESSE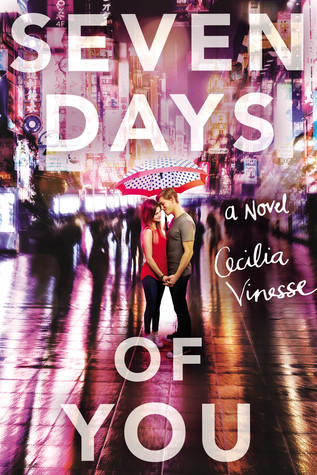 Sophia has seven days left in Tokyo before she moves back to the States. Seven days to say good-bye to the electric city, her wild best friend, and the boy she's harbored a semi-secret crush on for years. Seven perfect days…until Jamie Foster-Collins moves back to Japan and ruins everything.
Jamie and Sophia have a history of heartbreak, and the last thing Sophia wants is for him to steal her leaving thunder with his stupid arriving thunder. Yet as the week counts down, the relationships she thought were stable begin to explode around her. And Jamie is the one who helps her pick up the pieces. Sophia is forced to admit she may have misjudged Jamie, but can their seven short days of Tokyo adventures end in anything but good-bye?
if you know me well, you probably know about my obsession with cute contemporary romances set in foreign cities – i loved anna and the french kiss, love and luck, and i love you so mochi, and i hope seven days of you will be just as good!
throughout the trip, i'll be reading these books to familiarize myself with tokyo. don't worry, i'll keep you guys updated – there will be a part two to #chloesultimatetokyoreadingexperience soon! stay tuned 🙂
---
have you ever been to tokyo / anywhere in japan? do you like foreign city contemporary romances – and do you have any recommendations? let me know in the comments! ♡